IN NORTH ICELAND ,
THE SCENIC
"DIAMOND CIRCLE"
the "Husavik-Dettifoss-Myvatn-Husavik round trip journey


No 1 attraction in North Iceland
The scenic 260 km long Diamond Circle (or Diamond Ring Road)
is loaded with marvelous diamonds.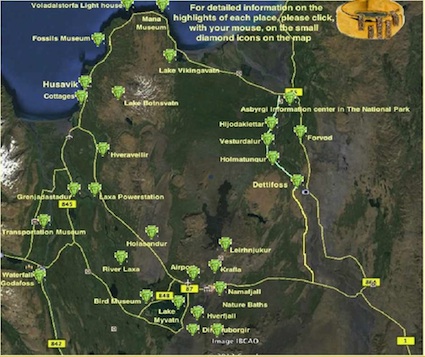 This round trip journey offers many of the most interesting and beautiful places in
Iceland. Husavik starts this spectacular round trip journey, which passes by the stunning Dettifoss waterfall and the gorgeous lake Myvatn, before returning to Husavik.
Along the way, travel
ers encounter the Dark Castles, Nama-fjall Geysers, the Crater of Hell, the Blue Lagoon of the North, the volcanic Krafla, the Waterfall of Gods, Asbyrgi canyon, the Jökulsargljufur Canyon National Park, the fossils and birds of Tjörnes, six interesting museums and the ghost valleys of the north. The Diamond Circle is stepped
in history and every hill offers a surprising new view.
To fully enjoy this amasing Ring Road you need at least four days
. Spend one day in the Myvatn area.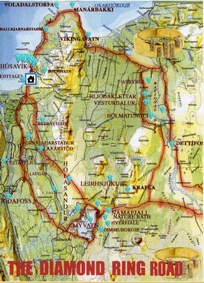 Together, the National Park of Jokulsargljufur canyon and the Dettifoss waterfall area, deserve at least one day. Reserve one more day to drive the Diamond Circle and visit all the small interesting places.
Finally, don´t miss our beautiful Husavik.
Many activities are within easy reach from Husavik, including, whale watching, horse riding, sea angling, golfing, bird watching and trout/salmon fishing. N
atural warm baths,
restaurants ,
4 swimming pools and
6 museums
.


For detailed information on the highlights of each place, please click, with your mouse, on the small diamond icons on the map