In Iceland there are around 1900 known species of mushrooms. they are divided into many subgroups and only few of them are used as food. Be careful and ask before you eat picked mushrooms.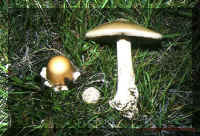 Mushrooms should be picked in dry weather shortly after rainfall. Some of the most common mushroom species grow near certain types of trees, after which they are named, such as the Larch Bolete (Lat. Suillus grevillei), easily recognizable due to its yellowish color.
It's best to pick the Larch Bolete while it is small, firm and button-like. Then the pores don't have to be removed. The Birch Bolete (Lat. Leccinum scabrum) grows near birch trees, as the name indicates. It has a light-brown hat and a white stem.
Another common mushroom species that grows in Iceland is the Slippery Jack (Lat. Suillus luteus), which can be found near pine trees and looks very similar to the Birch Bolete. It is slimier, though, as the name indicates. It is recommended that the slime coating is removed before eating.
There are also some toxic mushroom species in Iceland, for example Psilocybin Mushrooms, or Magic Mushrooms, and the more easily recognizable Fly Amanita (Lat. Amanita muscaria), which the Vikings called berserkur and ate for its hallucinogenic effects.
So, if you're uncertain about a mushroom you've picked, it's best to leave it alone. If you're new to mushroom picking, it's a good idea to rent a book on Icelandic mushrooms in the library and carry it with you.
While picking mushrooms, grab the lower end of the stem and twist it lightly so that the stem doesn't break off. Cut the mushroom in two to see whether snails, worms or insects have gotten to it before you did.
If the meat looks clean, brush the dirt off and place the mushroom in a basket. Plastic containers are not suitable for mushroom picking as the mushrooms require air to dry.
However, you should carry a plastic container with you to combine a mushroom picking tour with a berry picking tour should the opportunity arise. Blueberries and crowberries grow all around the capital region. Not in too large or dense forests, though.
Back at home, the mushrooms should be cleaned and prepared the same day that they're picked. The pores are generally removed from the Birch Bolete and the Slippery Jack, and if the pores are large and moist, also from the Larch Bolete.
If the cover of the cap is very slimy, it should be removed too. Only brush or scrape the dirt off the cap and stem—mushrooms should not be washed in water.